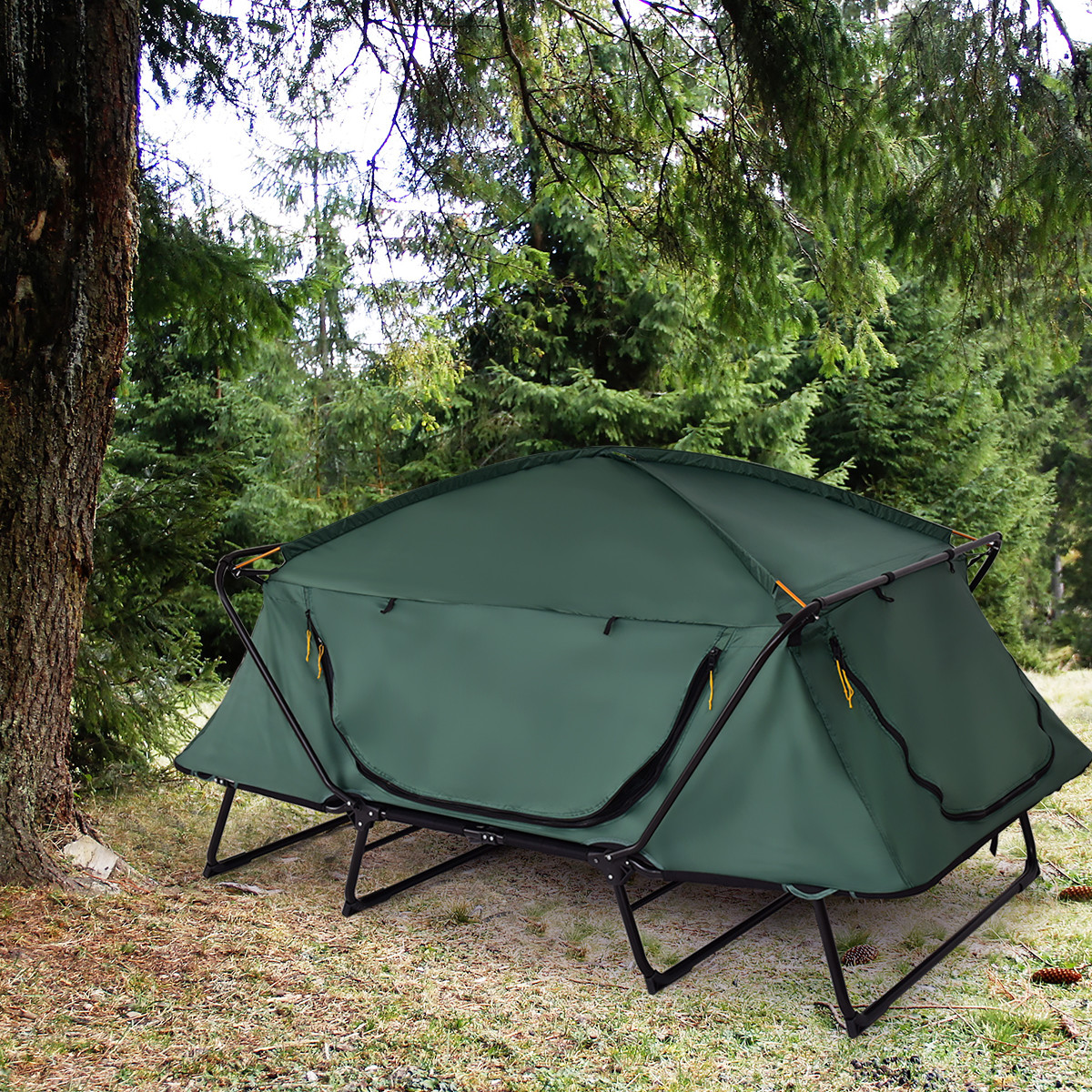 The fully enclosed Single Tent Cot creates a private sleep shelter and brings a level of convenience to outdoor outings not typically found with old style camping gear. The sturdy aluminum frame keeps you 12" above the ground to provide comfort and protection from insects, rocks and dampness. The quick, easy set up can be done alone without the help of an extra pair of hands, making it the ideal solution to get out and enjoy the Great Outdoors more often and more comfortably. Feature Heavy duty 420D PU coated Oxford tent and rain fly is designed to handle most wet weather conditions Lightweight aluminum frame Elevated sleeping platform keeps you high and dry and away from the bugs and snakes 2 Large D-Shape screening doors with zipper for easy entry Breathable micro mosquito mesh Stable Structure And With Waterproof Bottom Material Versatile design allows you to use your tent cot as a flat cot as well Quick And Easy Setting Perfect For Hiking, Camping And Other Outdoor Activities Specifications Color: Green Material: 420D Waterproof PU coated Oxford + 600D Waterproof Oxford Material of pole: steel + aluminum alloy Bed Size: 84.5" x 34.5" x 12"(L X W X H) Folded Size In Carry Bag: 33"×33" ×7"(L X W X H) Product Weight: 29lbs Capacity: 275lbs Package Includes: 1 X Camping Tent (Need To Be Assembled) 1 X Tent Cover 1 X Tent Carry Bag 1 X User Manual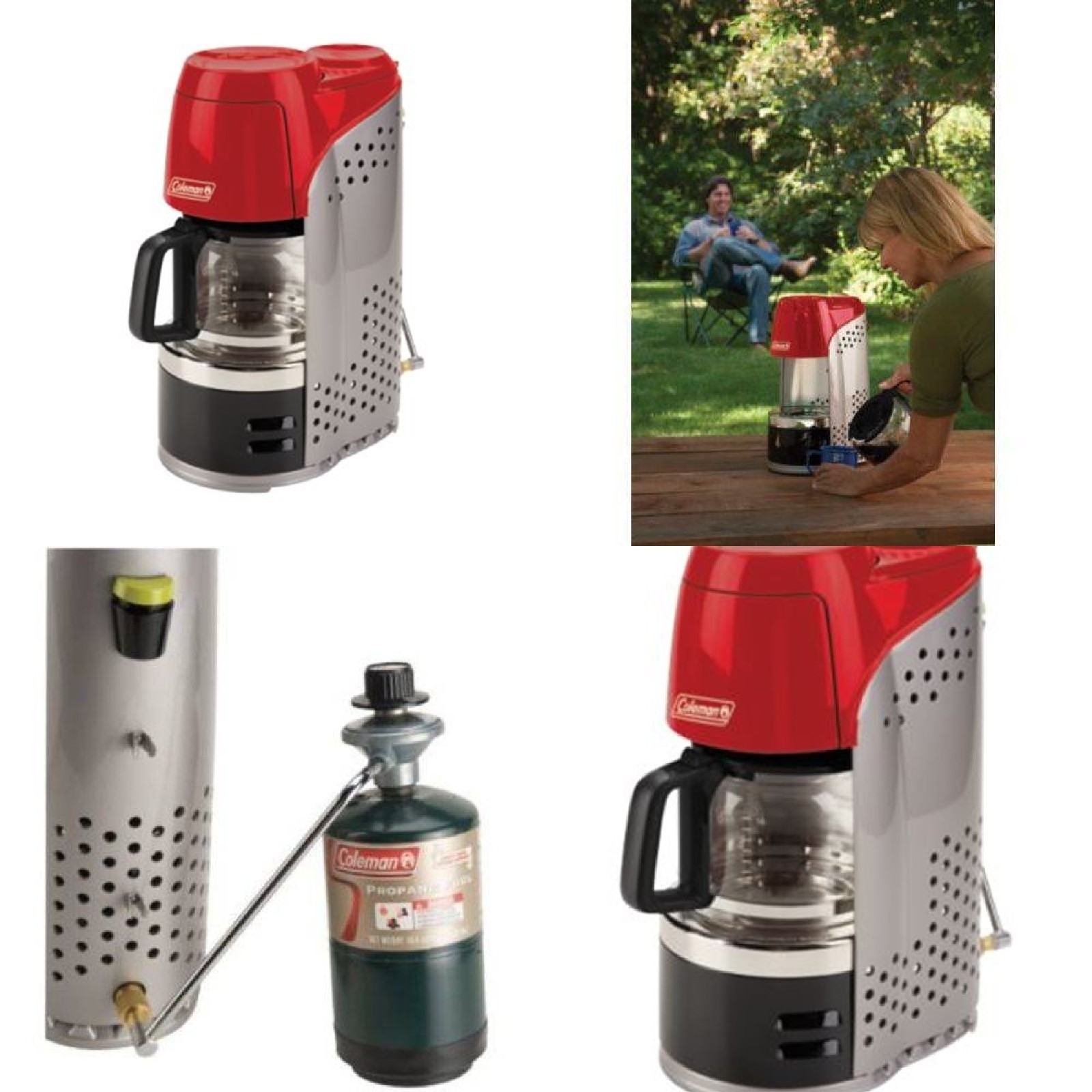 The Coleman Propane Glass Brew Coffee Maker easily delivers your cup of coffee while you are camping, tailgating, BBQing and beyond. Propane power makes the Coleman Portable Propane Coffeemaker extra-convenient, with no stove, cords or percolator required to get you that early cup of Joe. This Glass Camping Coffee Maker offers a quick and easy to use set up, and a brew time of just 15 minutes, even without electricity. This coffee maker is built to be easily portable and packable, so it's convenient to bring along wherever you need a cup of coffee. Easy InstaStart Matchless Lighting technology allows you to get your coffee brewing quickly and get your morning or afternoon adventures started. Make the Coleman Propane Glass Brew Coffee Maker part of your routine when striking out on an outdoor adventure. 10 cups of fresh-brewed coffee in 18 minutes with up to 4,500 total BTUs of cooking power Instastart ignition for push-button, matchless lighting Interrupt brewing for a quick cup with the Pause 'n' Serve feature Lasts up to 4.5 hours on one 16.4 oz. propane cylinder (sold separately) PerfectFlow technology provides consistent performance, even in extreme conditions, like sub-freezing temps or high altitudes Dishwasher-safe 10-cup glass carafe and filter basket for easy cleanups 3-year limited warranty Propane gas tank not included
-Waterproof design that prevents moisture ingress and keeps you warm -Wide-bottom S-Shaped quilted design -Double fill technology for extra protection to your body - Temperature Scale: -8℃(limit) ~ 15℃(comfort)/ 20°F~ 59°F. Ideal for any extreme conditions -Skin friendly - Polyester lining feels comfortable on the skin -Has zipper weather -stripping design with drawstring structure -The left one and right one can zip together to be a double sleeping bag -Generously sized - ensures maximum comfort without adding too many extra pounds -Comes with hollow cotton fill - dries quickly, remains durable and non-allergenic -High quality polyester and precisely done stitches ensure durability -Come with a 4-compression-strap bag, allowing sleeping bag to be compressed to minimum size, lightweight -Safe for even Machine Wash Features Shell Material: 100% 210T Polyester Liner: Cotton Blend Fill: Hollow Cotton Size: 215 * 70cm / 7.17 * 2.33ft Thickness:4.5cm/1.77in Package Size: 37 * 24cm / 14.56 * 9.44in Weight: 1500g / 3.3lbs Package Included 1 * Sleeping Bag 1 * Compression Stuff Sack
I am also seeking donations for an important environmental project and funding for future ecological projects-see the site by clicking the image-this looks like an incomplete project because so many plants have been stolen from this place
Portable 2 Person Folding Throwing Up Outdoor Tent Anti-UV Camping Hiking Tent with 2 Door Product Description: Item name:Automatic Tent 2 Person Camping Tent Out Tent Material:180T Polyester Bottom Tent Material:210D Oxford Size:210*140*110CM(L*W*H) Color of Tent:Orange,Green,Coffece,Purple Application:Outdoor Camping Fishing ,Night Fishing,Family Picnic,Hiking,Traveling Tent ,Summer Beach Tent . Feature Quick Automatic Opening Easy Set up. Breathable Design with Double Door ,High Density Net Defend the Gnat. UV Protection Lining Will be More Effective . Light Weight Portable Design You Can Carry it Anywhere.When You Want to go Fishing Hiking ,Traveling,Camping or have a Family Party Picnic . Package Included: 1 x tent 1 x assembly accessories 1 x carry bag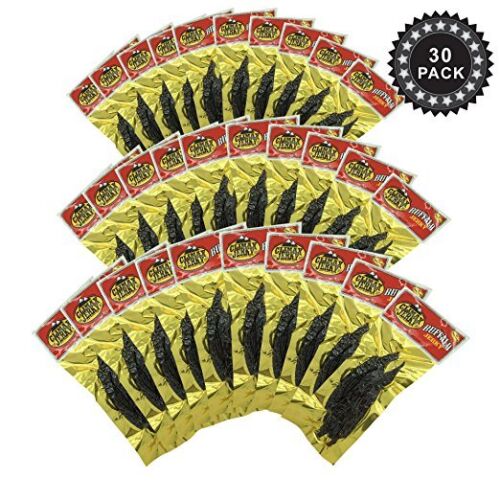 REAL BUFFALO JERKY: Climax Jerky brings you the real deal in buffalo jerky. Made from choice meats, our product stands out from most market products. Try the most tasty jerky from real buffalo. You will not buy another jerky ever again. SUPERIOR MANUFACTURING PROCESS: We aim to bring you the most quality product on your plate by carefully tested processing techniques. Our jerky is hand-stripped in a medium thickness that appeals to everyone. All flavors come from dry rubbing our meat, ensuring rich and enduring tastes and aromas. GREAT FLAVOR VARIETY: Choose from the great variety of delicious jerkies that Climax offers. Try the Smoked Teriyaki, Honey Glazed Steak, Hed Hot, Spicy, Habanero and Original. HICKORY SMOKED: Our meats are all wood smoked with 100% hickory wood which brings out their natural sweetness as needed. A step away from the traditional buffalo jerky seasoning it will leave your mouth watering for more! This jerky is Kippered cut and comes in 1.75 oz. size. ALL NATURAL COLORADO USA MADE JERKY: Jerky is a tasty high protein, low carb snack that will help you reach your peak! Our all natural jerky will satisfy your snack craving immediately. We have a wide variety of jerky flavors for all tastes, beef, buffalo, elk and specialty jerky. Let Climax Jerky show you a new side to jerky. Perfect snack for activities like Football, Soccer, Baseball, Tennis, Basketball, Golf, Runners, Walking, Hiking, Cycling, Traveling etc. Premium Buffalo Jerky By Climax Jerky Find your favorite jerky flavor in the great variety of Climax Jerky. Real buffalo meat, expertly handled, stripped and smoked for your enjoyment. Our buffalo jerky comes in a size packages of 1.75 ounces Delicious Flavors to Choose From Climax Jerky offers you jerky in different flavors. With these choices, you will never get bored of your favorite jerky.
Click the image below to see the new Apple IPhone 6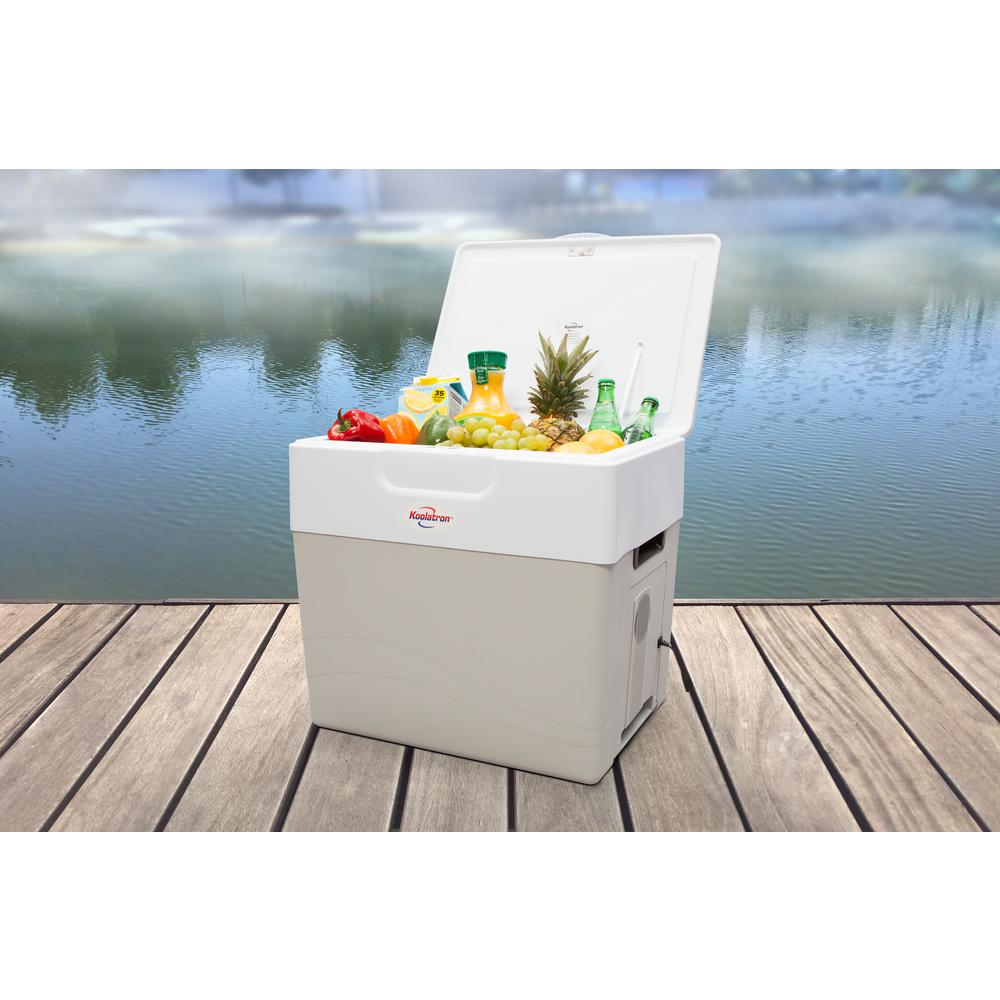 The Koolatron P85 Krusader Cooler is our largest 12-Volt cooler available and is ideal for packing meals for the campsite and plenty of drinks to share with your friends. It boasts a 52 Qt. capacity (49 l), which can fit up to 80 cans! The Koolatron P85 Krusader Cooler uses thermoelectric cooling, which means you don't need any ice. Koolatron coolers use thermoelectric technology to cool contents to 40F below the surrounding temperature. You can also use your Koolatron Cooler to warm food up to 140°F (60°C). The warming mode is for transporting food to a potluck dinner or for warming infant food and bottles while on the road. This electric cooler is powered through any 12 car plug. Just plug your electric travel cooler into the 12-Volt outlet in your car, SUV, truck, boat or RV to keep your favorite foods and drinks cold. Or with the AC adapter (sold separately) you can use your cooler indoors, when you need to cool drinks or food. Best Cooler for Travelling, Boating, Road Trips and on the go. Designed to be convenient and portable, this electric travel cooler can be used in different positions - upright like a fridge or as a chest cooler. This cooler includes a removable shelf to help separate your food or drinks. The Koolatron P85 Portable Krusader Cooler is great for road trips, family picnics, camping trips, your RV and boating on the lake. Fits up to 80 soda cans A true giant among all 12 Volt coolers Cools to 48F below the outside temperature Reverse the power cord to turn the cooler into a warmer State-of-the-art thermoelectric cooling technology

Easily Mounts to Your Wall to CRUSH 10 Soda Cans in 10 Seconds! No Batteries or Electricity Required! Includes all mounting hardware. You'll Never have to Handle a Messy, Sharp-Edged Can Again! Made in USA Width: 16" Height: 18.94" Length: 23.34" Weight: 2.14 lbs 10 Can Capacity
For a great selection of outboard boat motors in all price ranges-horsepower ranges-and most makes and models-plus a large selection of fishing boats-speedboats and skiboats-yachts-sailboats-and jetski watercraft-plus marine electronics and boating safety and accessories-see this website at

http://outboardmotormanual.tripod.com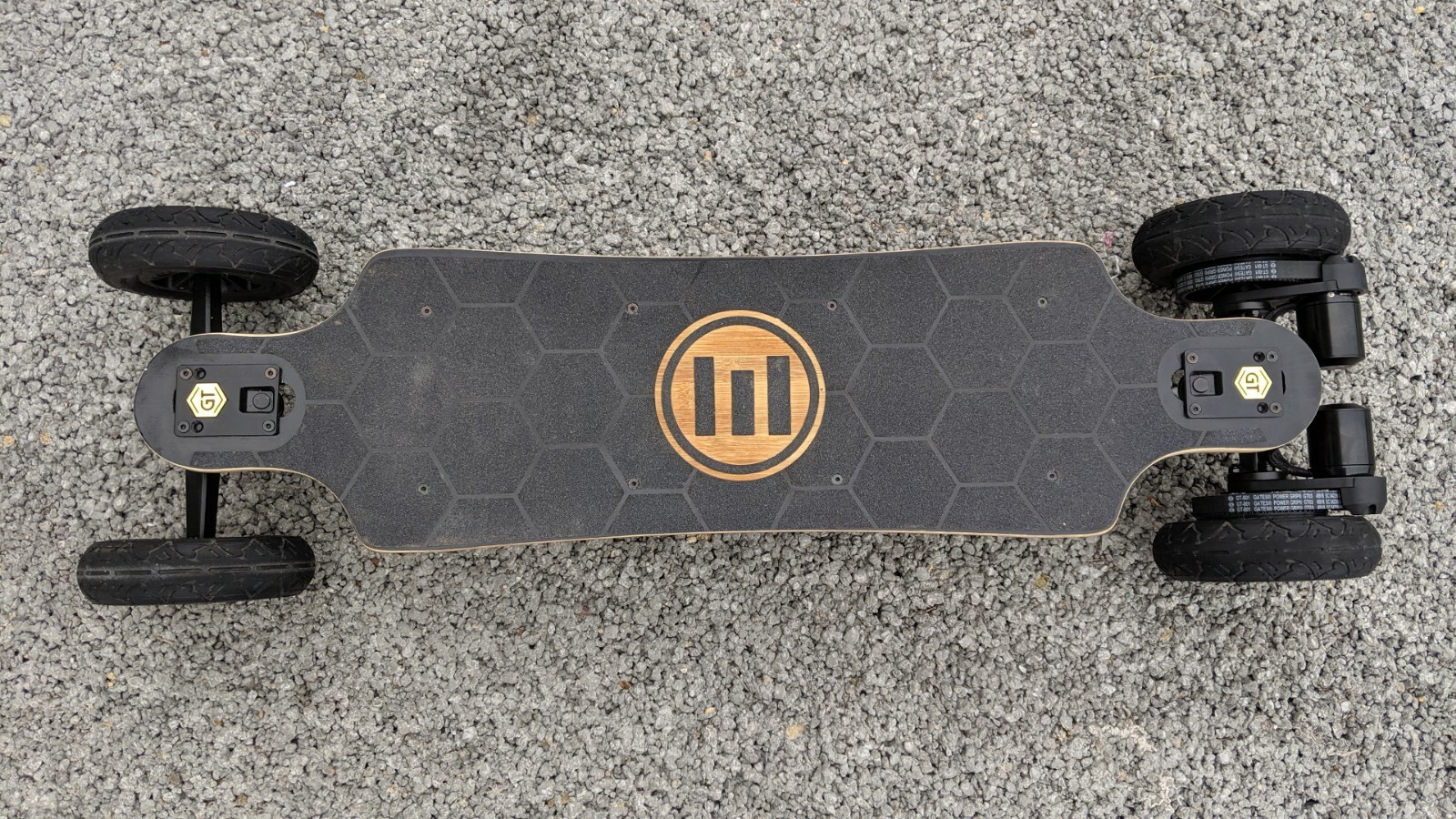 If ever the Evolve Carbon GT and the Bamboo GT had a love child, this would be it! The Bamboo GTX series (X meaning Extras) combines the high performance attributes of the Carbon GT and morphs these features into a slick new looking Bamboo deck. We overhauled the Bamboo GT deck with a massive lithium battery whilst fine tuning the deck flex, and adding laser cut grip-tape. Whats the result you ask? The Mac Daddy of electric bamboo boards capable of reaching speeds of 23mph! With a huge battery range of up to 18 miles per charge, and a sweet deck flex that allows for a comforting ride on any terrain surface thrown at it, the GTX All Terrain not only takes that performance down the road less traveled, it blazes a new path all of its own! The Evolve Bamboo GTX All Terrain offers more riding modes than ever before allowing all levels of rider to enjoy the product safely with the added ability to adjust your speed mode while riding to suit conditions and maximize efficiency. Use SLOW mode for easy control and a safe top speed, perfect for beginners and first time users. Once you get the hang of things switch to ECO mode for a relaxed ride and unparalleled range. Try FAST mode to whizz past traffic and turn your commute into your daily adrenaline rush hour, and if you dare, switch to GT mode to unleash the insane power and acceleration with the ability to climb hills of up to 25% gradient! To top it all off, you can see this performance in real-time with an industry first from Evolve Skateboards: The all-new Evolve GT Series Remote. It gives you instantaneous feedback on your speed, battery level, range and mode selected with a built in LCD screen, right from the palm of your hand! The Evolve Bamboo GTX All Terrain is the hybrid of unparalleled performance and traditional longboard style, an effortless low profile package guaranteed to draw both attention, and envy.
Wolverine tough boots-the best boots that I have ever worn-tough and comfortable boots that lasted me personally for over three years of hard use!!
Chippewa Boots for strength and durability
give this page a minute or so to fully load-
it contains a lot of gallery images
which take a little longer-
the images will appear blank until then-
point your cursor over the image and a text description
and price will appear-click the image for purchase info.