This is an independent affiliate website.

If you have any knowledge of any cybercrime occurring on this site please

feel free to contact the Federal Authorities.

No such crime is being committed here that I know of
but considering the value of the merchandise shown here

I would surely hate to be falsely accused.

Thanks from David J Ward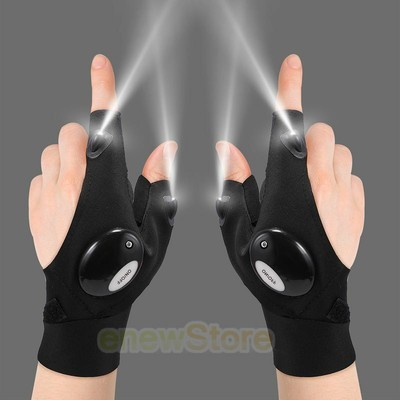 Tactical Gloves with LED Flashlight
Forget the flashlight balancing act. Keep both hands free with the Outdoor LED Gloves.
Operated by two button cell batteries.
Easy on/off at the touch of a button
Two lights per glove; one thumb light and one pointer light
Operates on two CR2016 button batteries (included)
One size fits most
Dimensions: 5.0 inches (H) x 2.0 inches (W) x 5.0 inches (L)
Forefinger length: 1.77
Thumb length: 1.37
Distance between the two fingers: 2.75
Weight: 4.0 ounces

Lifeshield® Light & Communications Survival Kit By Frog & Co By Frog & Co. - $39.97
Features: Compact and Easy to Store: Each item in this kit can fit snugly in your pocket and won't weigh you down on a long camping trip. Safe and Simple: The waterproof matches and emergency candle included in the kit can help you start a fire for warmth and meal prep. The Mini Tact Light produces a bright LED light and can also be used for self-defense. The green Glowstick is non-toxic and can safely be used next to skin. The scream whistle won't get gummed up in an emergency. And the Pocket Radio can provide emergency information at the push of a button. Includes: 1 - Green Glowstick 1 - Kaito KA208 palm-sized radio 5 - Emergency Candles 1 - Mini Tact Light 1 - Scream Whistle 20 - Survival Safety Matches 1 - Waterproof match case w/ specialty strike Life-Saving Light and Vital Emergency Information at Your Fingertips The ability to understand your surroundings is absolutely critical during an emergency which is why every prepper, survivalist, hiker, and outdoor enthusiast needs to add the Emergency Light & Communications Kit to their gear collection. This survival kit includes our credit card sized Pocket Radio (tune into to emergency frequencies for the latest information), the ultra-bright Tact Mini Flashlight (illuminate even the darkest surroundings), the shockingly loud Scream Whistle (frighten attackers and signal for help), our specialty waterproof matches (start a fire in any kind of weather), an emergency candle (provides both heat and light), and a 12-hour glow stick (simply bend, snap, and shake to produce long-lasting light). Specs: Match Case Dimensions: 3.1" x 1.1" Match Count: 20 Weatherproof Matches Match Power: Each Of The Weatherproof Matches Stays Lit For 15 Seconds Matches Weight: 0.7 oz. Including Waterproof Match Case Whistle Weight: 0.2 ounces Whistle Sound Power: 100 decibel Whistle Design: Pealess Flashlight Weight: 1.9 oz. / 2.7 oz. w/ battery Flashlight Dimensions: 3.5 x 1 inches Flashlight Modes: High/Medium/Strobe Flashlight Bulbs: CREE LED Lightbulbs Flashlight Lumens: 150 (actual) Flashlight Body: Aluminum Alloy Flashlight Power: AA battery (included) Radio Dimensions: 3.5 inches x 2.2 inches x 0.82" inch Radio Weight: 4 oz. Radio Power: 2 "AAA" Size Batteries (not included) *Product packaging may slightly vary from what is pictured. Lifeshield® Light & Communications Survival Kit By Frog & Co By Frog & Co.. Low Price Guarantee - 6 Month Any Reason Refund Guarantee - On Time Shipping - Best Customer Service

E-Wheels EW-10 Sport Fast

Power Electric Recreational Mobility Scooter

We are pleased to announce our latest example of drawing outside the lines: The EW-10 Sport.

Striking. Athletic. Instantly recognizable. Its bold appearance, like any EWheels, is not shaped by accident. It is Shaped by Performance.

With a maximum speed of 15 MPH and a travel range of 40 miles on a single charge, the EW-10 is equipped with an advanced electronic remote key fob on/off power function, alarm system, secure under-seat storage, and a lockable rear storage box.

Specifications:

COLORS: RED or LIGHT BLUE

MAXIMUM SPEED: 15 MPH (varies based on riders weight and driving terrain)

TRAVEL RANGE: 40 MILES (varies based on riders weight and driving terrain)

MOTOR: 500 watt Trans-Axel Motor

WEIGHT CAPACITY: 400 LBS

BATTERIES: 48 Volt, 20 Amp

REAR VIEW MIRRORS: Yes, Two Mirrors

BRAKES: Front and Rear Drum Brakes

BRAKE LEVERS: Front and Rear

STORAGE: Rear Box Lockable Storage

VARIABLE TWIST THROTTLE: Yes

SEAT SIZE: 14 Wide and 26 Deep

SEAT BASE HEIGHT: From Floor Height 30

SMART CHARGER: Yes

BAG HOOK: Yes

PARKING BRAKE: Yes

Front Storage Area: Two Storage Bins

REVERSE SWITCH: Yes

ELECTRIC HORN: Yes

GUAGES: Yes, Speedometer with Battery Gauge

3 Speed Settings Low, Medium and High

CLIMBING: 12 degrees

LIGHTING PACKAGE: Turn Signals, Brake Lights, High/Low Beam Headlight, Rear Light

KEYLESS KEY FOB: Yes, Power on/off

ANTI-THEFT ALARM SYSTEM: Yes, Keyless Remote

BATTERY INDICATOR GAUGE: Yes

TIRE SIZE: Front and Rear Tire Size 15

REAR REFLECTORS: Yes

ALUMINUM RIMS: Yes

SCOOTER LENGTH: 70

SCOOTER WIDTH: 28

SCOOTER HEIGHT: 43

DECK HEIGHT: 12

GROUND CLEARANCE: 6.5

WHEEL BASE: 52

FRONT SUSPENSION FORK: Yes

REAR SUSPENSION: Two Heavy Duty Shocks

SCOOTER WEIGHT: 209 LBS

SCOOTER SHIP WEIGHT: 335 LBS

WARRANTY 3 YEAR LIMITED
Heavy Duty Tent Cot - 76" x 30" - $120.00

Consists of a heavy duty cot and a detachable dome shaped tent. The tent is supported by heavy-duty flexible poles and is water resistent. You'll be protected from the elements, and up off of the ground, away from any dampness and creepy crawlers.

Looking for a thoughtful and practical gift for him or dad? Want to make sure that you're prepared for any kind of outdoor emergency?<BR>
Presenting The Ultimate Survival Kit For Outdoor Adventures!<BR>
We made a list of all our must-have survival tools and used it to create one of the most complete & extensive survival kits on the market<BR>
<BR>
35-PIECE WATERPROOF CASE UPGRADE INCLUDES:<BR>
19-In-1 Wilderness Card with fishing hooks, snare locks and more tools<BR>
Emergency Tactical Pen so you can break any car window in seconds<BR>
Rope Saw easily cut tree branches or rope<BR>
PBT Bandage & 2 Disinfecting pads<BR>
Waterproof & Space Saving Case<BR>
MOLLE POUCH UPGRADE INCLUDES:<BR>
Complete First Aid Kit<BR>
Molle Pouch with phone pocket & multiple zippered compartments.<BR>
Dont Waste Any More Time!<BR>
The tactical kit will help you protect your loved ones, call for help, stay warm, build shelter, start a fire even during storms and enjoy all your outdoor adventures with unmatched confidence!<BR>
Here's What You Get:<BR>
Steel LED Tactical Flashlight with adjustable zoom and 3 modes (requires 1 AA battery but not include)<BR>
4-In-1 Paracord Bracelet with integrated compass, whistle and fire starter<BR>
10-In-1 Swiss Card with bottle opener, screwdriver, can opener, wrench and more<BR>
Flint Steel Striker start a fire 5.000+ times with zero effort<BR>
4 Pieces Of Rapid Ignite Tinder wax soaked so you can start a fire even in rain<BR>
Emergency Blanket so you can stay warm and protected
249Pcs 34Types SOS Survival Equipment First Aid Kit Wound Treatment Tools For Outdoor Activities Camping Hunting - $61.19

Specifications: Name First Aid Kit Product Quantity 249 Tool Types 34 Suit For Emergency, Outdoor Survival Features: - Fully equipped, powerful & practical. 249Pcs/set, all the accessories can meet all your needs. Every item in the case is full of useful. - With Mouth to Mouth Mask, quick save. - A Must-have accessory for outdoor sports, it includes TPE tourniquet, Medical cotton ball, Triangular bandage, mouth to mouth mask, Butterfly bandage etc. - Ideal for people who love outdoor activities, such as camping, hiking, trekking, hunting, and so on. - Lightweight and portable bag, easy to carry. Suitable for outdoor camping and hiking emergency self-help, family life emergency needs, car security survival package, Drill education teaching etc. Package Included: 1x Alcohol-free swabs (80pcs) 5x TPE tourniquet 1x Disposable raincoat 1x Medical cotton ball (20pcs) 10x Spatula 2x First aid blanket (210x130cm) 1x Burn dressing (40x60cm) 1x Triangular bandage 2x Disposable gloves 2x Gauze pad bandage 2x PBT bandage (5x4.5cm) 3x PBT bandage (7.5x4.5cm) 1x Mouth to Mouth mask 40x Sterile gauze gasket (5x5cm) 5x Joint bandage 2x Survival breathe mask (32.5x19.7cm) 1x First aid tape 20x Butterfly bandage 6x Itching to stick 10x Paper clips 2x Camouflage tape 2x Liquid soap wipes 1x Tactical multifunction card 1x Mini escape safety hammer 2x Alcohol-free cleaning wipes 1x Multi-function tool pliers 1x Whistle 20x Iodine volts 1x Zoom flashlight (excluding battery) 1x Scissors 1x Plastic tweezers 1x Glass magnifier 1x First aid bag
Multi-functional Waterproof Windproof Tent With Insect Net Ultralight Hammock Aerial Tent Portable Outdoor Camping 270x140cm - $149.99

Specifications: Hammock material 70D nylon (parachute cloth) Mesh material Polyester fiber high density mesh Waterproof cover material 210T polyester waterproof cloth PU2000 Support rod material 7 series aluminum alloy Size 270 * 140 cm Weight About 2kg Bearing capacity 220kg Storage size 42 x 12 x 13 cm Features: - This hammock tent is a new type of aerial off-ground tent that has tunnel-type mosquito net + hammock + waterproof hood integrated design - Fully considering the convenience and practicality of outdoor use, in addition to providing a comfortable sleep, it also has the functions of windproof, waterproof and mosquito proof. - This product is quick to set up, easy to store and easy to carry. It is an emerging sleep rest equipment in outdoor sports. Package includes: 1 x Hammock and nets 1 x Out of tent 2 x Aluminum poles 2 x Aluminum alloy studs 2 x Aluminum alloy hooks 2 x Powerful straps 2 x Ropes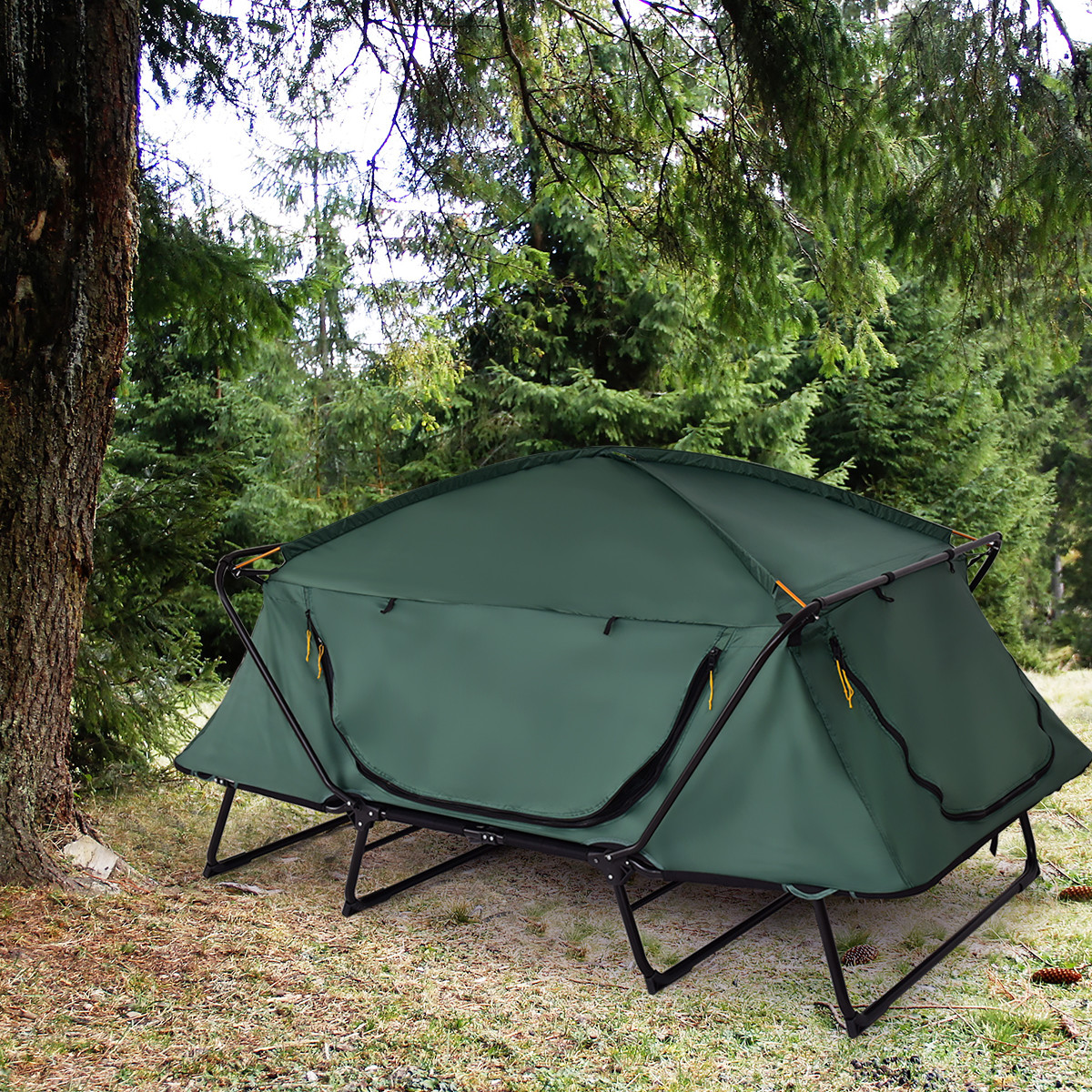 The fully enclosed Single Tent Cot creates a private sleep shelter and brings a level of convenience to outdoor outings not typically found with old style camping gear. The sturdy aluminum frame keeps you 12" above the ground to provide comfort and protection from insects, rocks and dampness. The quick, easy set up can be done alone without the help of an extra pair of hands, making it the ideal solution to get out and enjoy the Great Outdoors more often and more comfortably. Feature Heavy duty 420D PU coated Oxford tent and rain fly is designed to handle most wet weather conditions Lightweight aluminum frame Elevated sleeping platform keeps you high and dry and away from the bugs and snakes 2 Large D-Shape screening doors with zipper for easy entry Breathable micro mosquito mesh Stable Structure And With Waterproof Bottom Material Versatile design allows you to use your tent cot as a flat cot as well Quick And Easy Setting Perfect For Hiking, Camping And Other Outdoor Activities Specifications Color: Green Material: 420D Waterproof PU coated Oxford + 600D Waterproof Oxford Material of pole: steel + aluminum alloy Bed Size: 84.5" x 34.5" x 12"(L X W X H) Folded Size In Carry Bag: 33"×33" ×7"(L X W X H) Product Weight: 29lbs Capacity: 275lbs Package Includes: 1 X Camping Tent (Need To Be Assembled) 1 X Tent Cover 1 X Tent Carry Bag 1 X User Manual
More to explore :Mosquito Net Camping Tents,Insect Mosquito nets,Camping Tent & Canopy Accessories,Camping & Hiking Tent Cots,door mosquito net,Camping Tents & Canopies,mosquito tent,Off! Mosquito protection Insect Nets & Repellents,Kamp-Rite Camping Tent Cots,Coleman Camping Tents & Canopies
I am also seeking donations for an important environmental project and funding for future ecological projects-see the site by clicking the image-this looks like an incomplete project because so many plants have been stolen from this place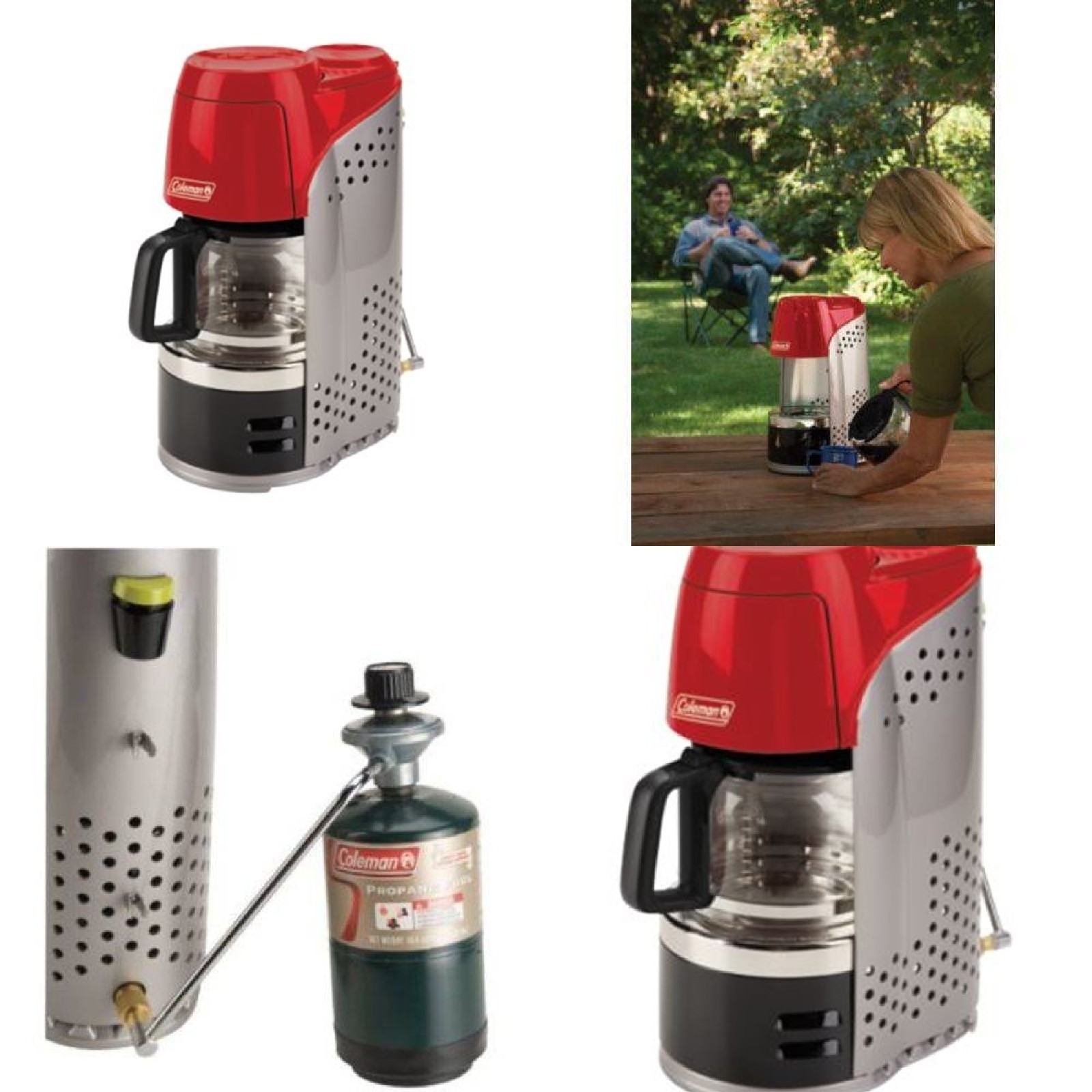 The Coleman Propane Glass Brew Coffee Maker easily delivers your cup of coffee while you are camping, tailgating, BBQing and beyond. Propane power makes the Coleman Portable Propane Coffeemaker extra-convenient, with no stove, cords or percolator required to get you that early cup of Joe. This Glass Camping Coffee Maker offers a quick and easy to use set up, and a brew time of just 15 minutes, even without electricity. This coffee maker is built to be easily portable and packable, so it's convenient to bring along wherever you need a cup of coffee. Easy InstaStart Matchless Lighting technology allows you to get your coffee brewing quickly and get your morning or afternoon adventures started. Make the Coleman Propane Glass Brew Coffee Maker part of your routine when striking out on an outdoor adventure. 10 cups of fresh-brewed coffee in 18 minutes with up to 4,500 total BTUs of cooking power Instastart ignition for push-button, matchless lighting Interrupt brewing for a quick cup with the Pause 'n' Serve feature Lasts up to 4.5 hours on one 16.4 oz. propane cylinder (sold separately) PerfectFlow technology provides consistent performance, even in extreme conditions, like sub-freezing temps or high altitudes Dishwasher-safe 10-cup glass carafe and filter basket for easy cleanups 3-year limited warranty Propane gas tank not included
Click the image below to see the new Apple IPhone 6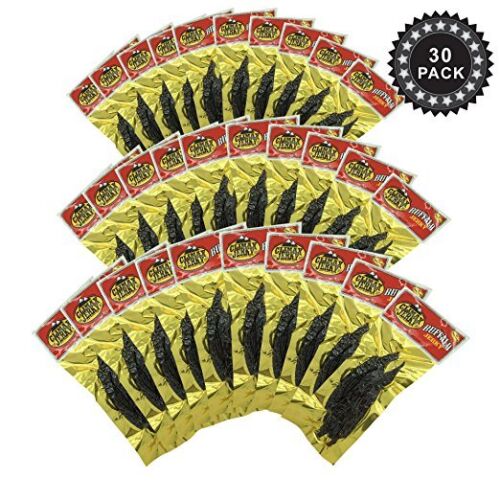 REAL BUFFALO JERKY: Climax Jerky brings you the real deal in buffalo jerky. Made from choice meats, our product stands out from most market products. Try the most tasty jerky from real buffalo. You will not buy another jerky ever again. SUPERIOR MANUFACTURING PROCESS: We aim to bring you the most quality product on your plate by carefully tested processing techniques. Our jerky is hand-stripped in a medium thickness that appeals to everyone. All flavors come from dry rubbing our meat, ensuring rich and enduring tastes and aromas. GREAT FLAVOR VARIETY: Choose from the great variety of delicious jerkies that Climax offers. Try the Smoked Teriyaki, Honey Glazed Steak, Hed Hot, Spicy, Habanero and Original. HICKORY SMOKED: Our meats are all wood smoked with 100% hickory wood which brings out their natural sweetness as needed. A step away from the traditional buffalo jerky seasoning it will leave your mouth watering for more! This jerky is Kippered cut and comes in 1.75 oz. size. ALL NATURAL COLORADO USA MADE JERKY: Jerky is a tasty high protein, low carb snack that will help you reach your peak! Our all natural jerky will satisfy your snack craving immediately. We have a wide variety of jerky flavors for all tastes, beef, buffalo, elk and specialty jerky. Let Climax Jerky show you a new side to jerky. Perfect snack for activities like Football, Soccer, Baseball, Tennis, Basketball, Golf, Runners, Walking, Hiking, Cycling, Traveling etc. Premium Buffalo Jerky By Climax Jerky Find your favorite jerky flavor in the great variety of Climax Jerky. Real buffalo meat, expertly handled, stripped and smoked for your enjoyment. Our buffalo jerky comes in a size packages of 1.75 ounces Delicious Flavors to Choose From Climax Jerky offers you jerky in different flavors. With these choices, you will never get bored of your favorite jerky.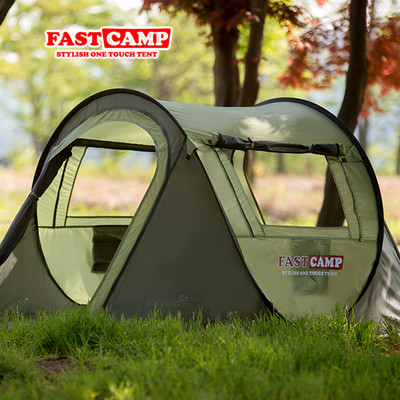 Portable 2 Person Folding Throwing Up Outdoor Tent Anti-UV Camping Hiking Tent with 2 Door Product Description: Item name:Automatic Tent 2 Person Camping Tent Out Tent Material:180T Polyester Bottom Tent Material:210D Oxford Size:210*140*110CM(L*W*H) Color of Tent:Orange,Green,Coffece,Purple Application:Outdoor Camping Fishing ,Night Fishing,Family Picnic,Hiking,Traveling Tent ,Summer Beach Tent . Feature Quick Automatic Opening Easy Set up. Breathable Design with Double Door ,High Density Net Defend the Gnat. UV Protection Lining Will be More Effective . Light Weight Portable Design You Can Carry it Anywhere.When You Want to go Fishing Hiking ,Traveling,Camping or have a Family Party Picnic . Package Included: 1 x tent 1 x assembly accessories 1 x carry bag
For a great selection of outboard boat motors in all price ranges-horsepower ranges-and most makes and models-plus a large selection of fishing boats-speedboats and skiboats-yachts-sailboats-and jetski watercraft-plus marine electronics and boating safety and accessories-see this website at

http://outboardmotormanual.tripod.com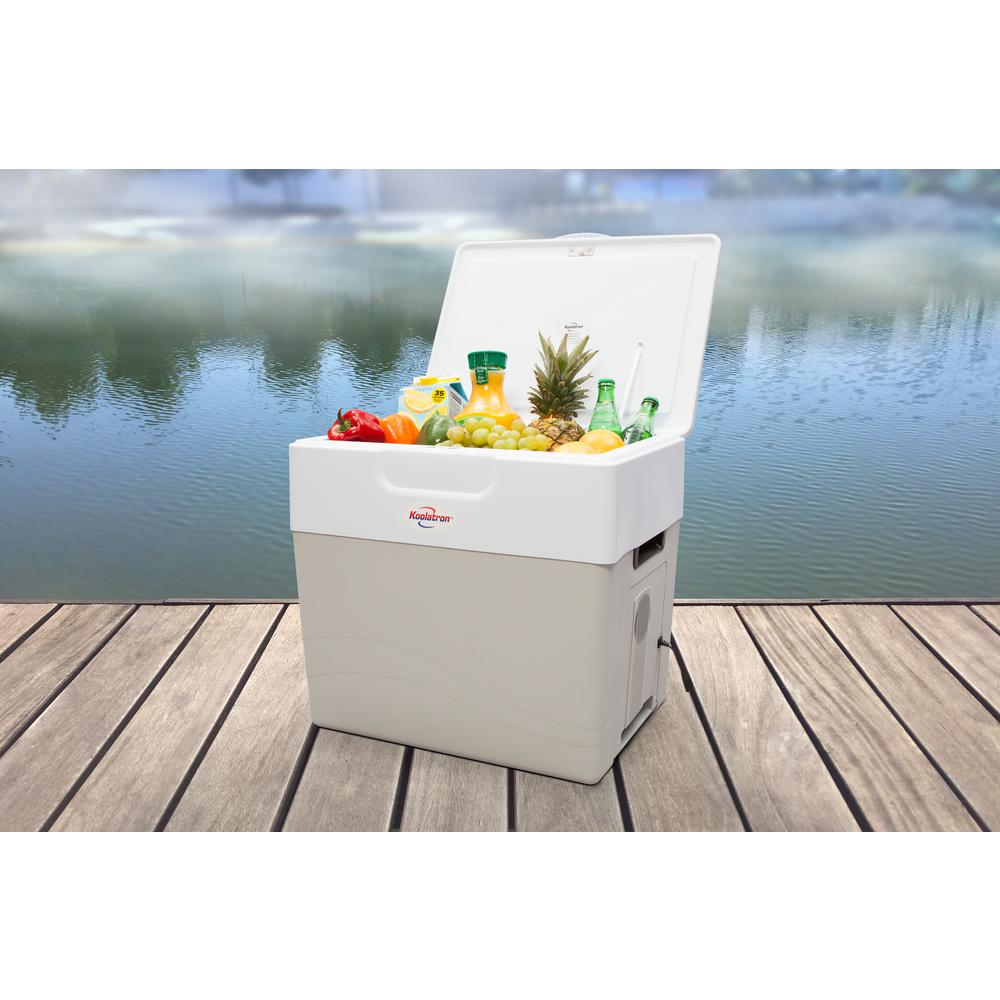 The Koolatron P85 Krusader Cooler is our largest 12-Volt cooler available and is ideal for packing meals for the campsite and plenty of drinks to share with your friends. It boasts a 52 Qt. capacity (49 l), which can fit up to 80 cans! The Koolatron P85 Krusader Cooler uses thermoelectric cooling, which means you don't need any ice. Koolatron coolers use thermoelectric technology to cool contents to 40F below the surrounding temperature. You can also use your Koolatron Cooler to warm food up to 140°F (60°C). The warming mode is for transporting food to a potluck dinner or for warming infant food and bottles while on the road. This electric cooler is powered through any 12 car plug. Just plug your electric travel cooler into the 12-Volt outlet in your car, SUV, truck, boat or RV to keep your favorite foods and drinks cold. Or with the AC adapter (sold separately) you can use your cooler indoors, when you need to cool drinks or food. Best Cooler for Travelling, Boating, Road Trips and on the go. Designed to be convenient and portable, this electric travel cooler can be used in different positions - upright like a fridge or as a chest cooler. This cooler includes a removable shelf to help separate your food or drinks. The Koolatron P85 Portable Krusader Cooler is great for road trips, family picnics, camping trips, your RV and boating on the lake. Fits up to 80 soda cans A true giant among all 12 Volt coolers Cools to 48F below the outside temperature Reverse the power cord to turn the cooler into a warmer State-of-the-art thermoelectric cooling technology
,,,,,,,
-Waterproof design that prevents moisture ingress and keeps you warm -Wide-bottom S-Shaped quilted design -Double fill technology for extra protection to your body - Temperature Scale: -8(limit) ~ 15;(comfort)/ 20°F~ 59°F. Ideal for any extreme conditions -Skin friendly - Polyester lining feels comfortable on the skin -Has zipper weather -stripping design with drawstring structure -The left one and right one can zip together to be a double sleeping bag -Generously sized - ensures maximum comfort without adding too many extra pounds -Comes with hollow cotton fill - dries quickly, remains durable and non-allergenic -High quality polyester and precisely done stitches ensure durability -Come with a 4-compression-strap bag, allowing sleeping bag to be compressed to minimum size, lightweight -Safe for even Machine Wash Features Shell Material: 100% 210T Polyester Liner: Cotton Blend Fill: Hollow Cotton Size: 215 * 70cm / 7.17 * 2.33ft Thickness:4.5cm/1.77in Package Size: 37 * 24cm / 14.56 * 9.44in Weight: 1500g / 3.3lbs Package Included 1 * Sleeping Bag 1 * Compression Stuff Sack
Mt. Rainier -20° WATERPROOF Sleeping Bag - $399.95

The Mt. Rainier series of sleeping bags is unlike anything else on the market today. These bags are absolutely waterproof with taped seams - yet your body moisture is able to exit the sleeping bag.
Wolverine tough boots-the best boots that I have ever worn-tough and comfortable boots that lasted me personally for over three years of hard use!!
Chippewa Boots for strength and durability
Dial Ind CAN RAM Aluminum Can Crusher - $19.84

ALUMINUM CAN CRUSHER



Crushes 10 cans in 10 seconds
Holds 6 cans with only 2 moving parts
Automatic chamber entry & ejection
Rust-proof, high-tech nylon
Easily Mounts to Your Wall to CRUSH 10 Soda Cans in 10 Seconds! No Batteries or Electricity Required! Includes all mounting hardware. You'll Never have to Handle a Messy, Sharp-Edged Can Again! Made in USA Width: 16" Height: 18.94" Length: 23.34" Weight: 2.14 lbs 10 Can Capacity